5 Reasons You Should Check out The Pool House!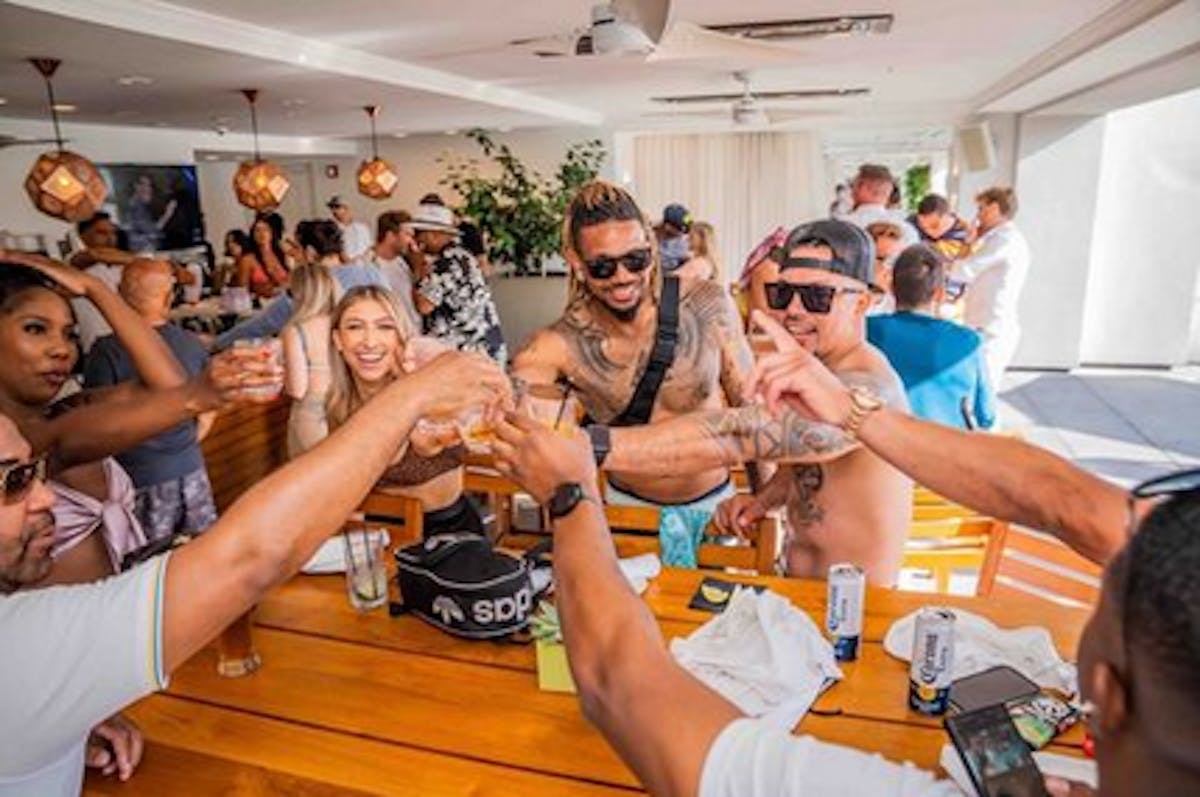 PRIVATE AREA AT A SAN DIEGO ROOFTOP POOL
There are so many benefits to our Cabana Service. If live music is your thing, then you'll have the best seat in the house. And if you're looking to meet new people, you'll have room to enjoy the entire event. Service is top notch as well. Your cup will always be full, so no waiting in line for the bar.
The best part is that you're not separated from all the action. Sure you have your private dining and drinking area for your crew, but you also have the freedom to step out and mingle as you please. You get the best of both worlds: visibility when you want to get your groove on, and a peaceful area to retreat to when you want things to be a little more intimate.
Contact our hosts above for the most up to date pricing and availability.
THE BEST BACHELORETTE PARTIES!
Bachelorette parties are serious business, and if you've found your soulmate, then you're only going to get one of them. But let's be real here, the night is about you and your bridal party, and having one last fling before the ring! If you're thinking of a rooftop pool, then think no further, and let us handle the rest. This is especially important for the maid of honor who may be planning something special! There's so much planning involved for a wedding, and while these duties can sometimes make enjoying the party yourself difficult, that's what we're here for at The Pool House. If you book your last hurrah with us, we'll take care of you so you can make your last fling legendary.
WE HAVE UNIQUE AND REFRESHING DRINKS
Our specialty cocktails have been imagined with total relaxation in mind, with restorative juices, and only the finest spirits mixed in. If you're kicking it poolside on a rooftop, you need to be treated like royalty. Let the week's stresses melt away, and lose yourself in the flavors that paint your day with liquid luxury.
LUNCH IS BETTER POOLSIDE
At The Pool House, we've got everything on lock: the vibe, the drinks, and party atmosphere, and the view of San Diego that can't be beat. But if you're coming in with a mean appetite, then we've got you covered there too! Whether you're looking for the ultimate hangover cure in the form of our Breakfast Burrito, or you want to chill poolside with some Fish Tacos or Maine Lobster Rolls, we've got the spread. But our favorite of all? A timeless classic called The Pool House Burger! Sometimes you can't go wrong with a burger and fries!
AN AMAZING VIEW OF THE 5TH AVENUE
We've got the cabana reservations and lunch on lock. If you're about to get hitched and need a place to host your party, we've got you covered there too! Drinks are a must, so the only thing we're waiting for is you! Bring your friends, make a splash, and enjoy the view of the city from down below. So much life hustling and bustling below you, it's a true site to see. So bring yourself, your friends, your family, and your appetite, and we'll make sure you have an unforgettable, carefree afternoon at San Diego's Premier rooftop pool, The Pool House!
About The Pool House
AN OUTDOOR OASIS WITH DRAMATIC CITY VIEWS
Boasting some of the best views in the Gaslamp Quarter, The Pool House at Pendry San Diego is a premier rooftop lounge, embodying the essence of the Southern California lifestyle. Light, contemporary, and open-air, the indoor/outdoor space is perched above the Gaslamp's famed 5th Avenue and plays host to relaxed daytime and evening events featuring a signature bar and cocktail experience for poolside guests.
The Pool House is open Sunday-Friday to the public 11am – 6pm.