Cabana Reservations at The Pool House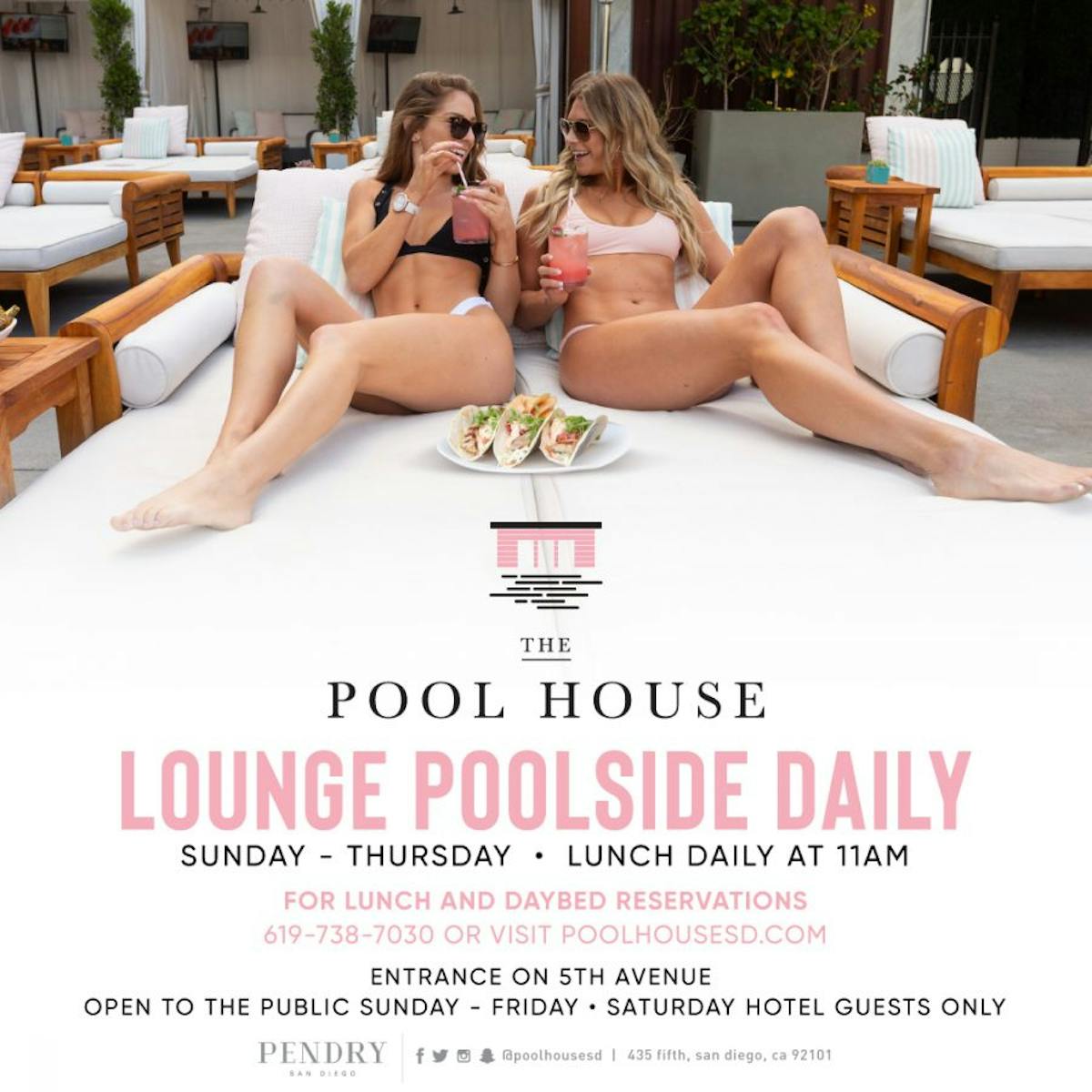 Are you looking for an exclusive experience at a San Diego Rooftop pool? Lucky for you, The Pool House has Daybed and Cabana service. This service includes the fastest entry into the venue for you and your entire group, and comes with your own private area to enjoy the event with options for shade and umbrellas. This includes your own daybed or cabana, waitress, busser, and security staff. Your purchase of this package comps your group's entry into the venue, and your entire spend goes toward the food and beverages of your choice. If you want to get noticed, and/or have the most comfortable real estate at the Pool House, daybed and cabana service is the way to go.
WHAT YOU NEED TO KNOW
Where: 435 Fifth Avenue, San Diego, CA, 92101
When: Sunday-Friday (Saturday for hotel guests only) 11am-6pm
Reservations: For Cabana Reservations, click right here!
PRIVATE AREA AT A ROOFTOP POOL
There are so many benefits to our Cabana Service. If live music is your thing, then you'll have the best seat in the house. And if you're looking to meet new people, you'll have room to enjoy the entire event. Service is top notch as well. Your cup will always be full, so no waiting in line for the bar.
The best part is that you're not separated from all the action. Sure you have your private dining and drinking area for your crew, but you also have the freedom to step out and mingle as you please. You get the best of both worlds: visibility when you want to get your groove on, and a peaceful area to retreat to when you want things to be a little more intimate.
HOW DO WE SET THIS UP?
Contact our hosts above for the most up to date pricing and availability. It's as simple as filling out a form, and hearing from one of our hosts. Just let us know the details, and we'll take care of the rest. The Pool House is open for the public from Sunday-Friday, 11am-6pm, but if you're looking for a rooftop experience that's a little more exclusive, then our Cabana Service is exactly what you're looking for.
ABOUT THE POOL HOUSE
AN OUTDOOR OASIS WITH DRAMATIC CITY VIEWS
Boasting some of the best views in the Gaslamp Quarter, The Pool House at Pendry San Diego is a premier rooftop lounge, embodying the essence of the Southern California lifestyle. Light, contemporary, and open-air, the indoor/outdoor space is perched above the Gaslamp's famed 5th Avenue and plays host to relaxed daytime and evening events featuring a signature bar and cocktail experience for poolside guests.
The Pool House is open Sunday-Friday to the public 11am – 6pm.