Drinks by The Glass and Pitcher at The Pool House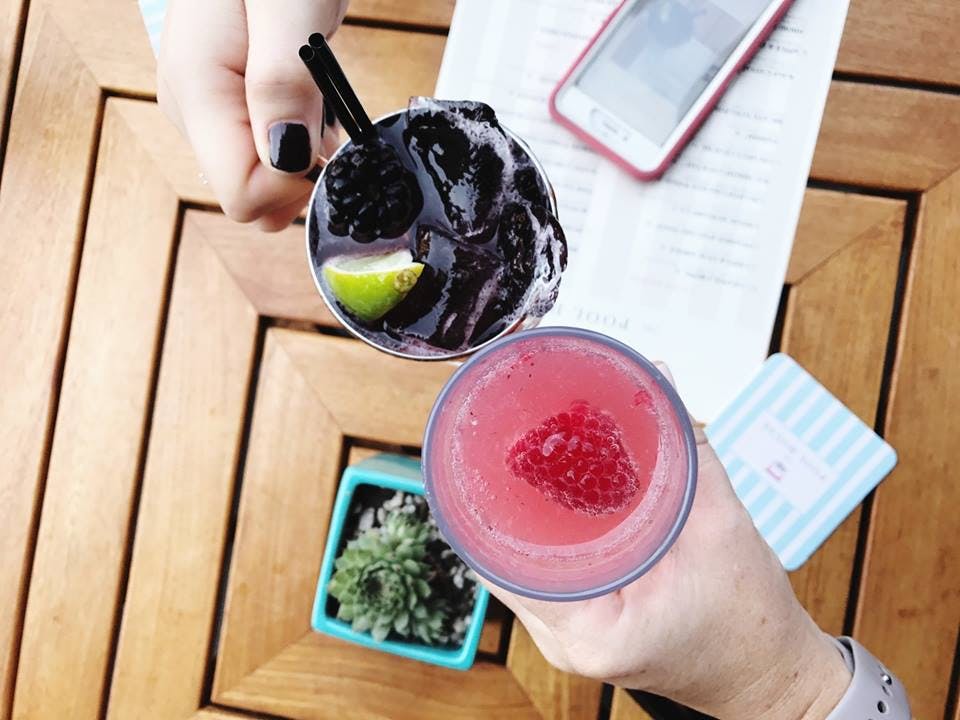 Can you think of a better way to spend your afternoon poolside in San Diego with your friends? We can! Spending an afternoon poolside with your friends with drinks by the glass or pitcher! Sure, catching some rays on a San Diego Rooftop overlooking 5th avenue is great, but it's even better with a cocktail in hand. Not only that, our cocktails are unique and superior in every way! Let's break it down to you, so you know what you're getting yourself into. That way you can get your buzz on before yelling cannonball at The Pool House.
THE SPECIALTY COCKTAILS
Our specialty cocktails are served by the glass ($16) or pitcher ($75), and come in some of the most refreshing flavors that you could imagine. Our mixologist really explored the limit of their imaginations on these concoctions! You're already sky high on a San Diego Rooftop, so now it's time to knock a couple back with great company, and make a splash!
Classic Mojito – Bacardi Superior Rum, Lime, Mint, Sugar
Don Sandia – Casamigos Blanco Tequila, Watermelon Juice, Lemon, Lime
Fresca Fizz – Ciroc Red Berry Vodka, Raspberries, Lemon, Mint, Chandon Sparkling Wine
Golden Goose – Grey Goose Vodka, St-Germain, Lime, Ginger Beer
Hot In Jalisco – Don Julio Blanco Tequila, Grapefruit, Pomegranate, Lime, Firewater Bitters
Pablo Chacon – Mi Campo Blanco Tequila, Cucumber, Jalapeño, Bitters, Lime
Passion Berry Mojito – Cruzan Passion Fruit Rum, Raspberry, Mint, Lime, Soda
Citrus Twist – Tanqueray Gin, St-Germain, Orgeat, Orange Bitters, Lemon
Ultimate Margarita – Avion Silver, Agave, Lime, Grand Marnier Float
Mezcalita – Casamigos Mezcal Tequila, Orange, Lime, Agave, Tajin, Orange Bitters
Lemon Detox – JuneShine Hard Kombucha, Absolut Elyx Vodka, Ginger Beer, Lemon, Basil
Strawberry Lemonade – Grey Goose Essence Strawberry and Lemongrass Vodka, Lemon, Sugar, Strawberries
Southern Punch – Hennessy VS, Peach Schnapps, Lemons, Cranberry, Sprite
Makers Torero – Makers Mark Bourbon, Tropical Red Bull, Orgeat, Lemon
FEELING A LITTLE HOT?
Well, don't worry. Our full menu also includes frozen drinks by the glass ($17), an they'll cool down before you could say "San Diego Rooftop."
Wet Sand – Malibu Black Coconut Rum, Pineapple Juice, Piña Colada Purée
Frosé – Campo Viejo Rosé, 50 Bleu, Fresh Raspberries, Fresh Watermelon Juice
SPICY MANGO Margarita – Espolon Blanco Tequila, Agave, Lime, Mango Pure, Jalapeno
AND IF YOU'RE A LITTLE MORE OF A PURIST, DON'T WORRY
We offer a variety of non-alcoholic beverages, beer (draft or can), canned beverages, champagne, white, rosé, and red wine! There's something for everyone at The Pool House, so what are you waiting for?
About The Pool House
AN OUTDOOR OASIS WITH DRAMATIC CITY VIEWS
Boasting some of the best views in the Gaslamp Quarter, The Pool House at Pendry San Diego is a premier rooftop lounge, embodying the essence of the Southern California lifestyle. Light, contemporary, and open-air, the indoor/outdoor space is perched above the Gaslamp's famed 5th Avenue and plays host to relaxed daytime and evening events featuring a signature bar and cocktail experience for poolside guests.
The Pool House is open Sunday-Friday to the public 11am – 6pm.