Golden Hour Refresher at The Pool House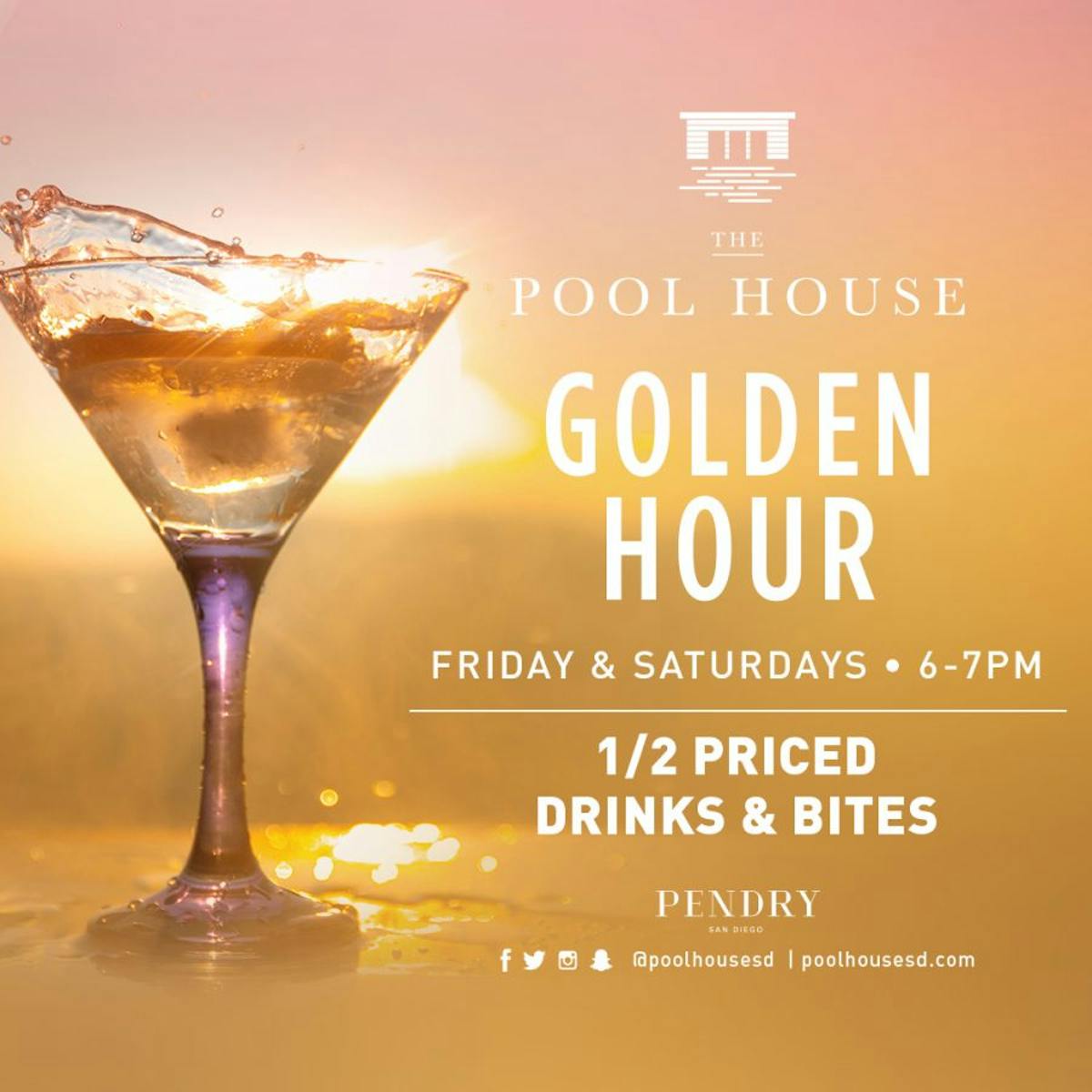 Who says you can't be cool by the pool during the holiday season? Because at The Pool House, we've transcended past the usual happy hour that you know and love. When you're partying rooftop pool style, you've gotta step your game up for Golden Hour! "What is Golden Hour?" you ask? It's this little thing we do on the weekends where you get half off drinks & bites. But if you think about it, if you get two drinks for yourself, it's more like a buy one, get one. It all depends on your perspective, so we'll leave the math up to you.
Whether you're traveling to San Diego, or a longtime resident, we like to think that summer is a state of mind more than a season. If you want to hang poolside in December, we're not going to stop you, that's for sure! We can't think of a better way to relax before the holiday season is in full gear than sitting on a San Diego rooftop with some good company and some great deals!
What you need to know
When is Golden Hour at The Pool House?: Friday's & Saturdays 6-7 pm
What is so "Golden" about it?: Your mood, after you realize drinks and bites are half off!
What am I punching into the GPS?: 435 Fifth Avenue, San Diego, CA, 92101
Specialty Cocktails
Our specialty cocktails have been imagined with total relaxation in mind, with restorative juices, and only the finest spirits mixed in. If you're kicking it poolside on a rooftop, you need to be treated like royalty. Let the week's stresses melt away, and lose yourself in the flavors that paint your day with liquid luxury.
Classic Mojito – Bacardi Superior Rum, Lime, Mint, Sugar
Don Sandia – Casamigos Blanco Tequila, Watermelon Juice, Lemon, Lime
Fresca Fizz – Ciroc Red Berry Vodka, Raspberries, Lemon, Mint, Chandon Sparkling Wine
Green Flash – Tanqueray Gin, Midori Melon, Lemon, Basil
Hot In Jalisco– Don Julio Blanco Tequila, Grapefruit, Pomegranate, Lime, Firewater Bitters
Pablo Chacon – Mi Campo Blanco Tequila, Cucumber, Jalapeño, Bitters, Lime
Passion Berry Mojito – Cruzan Passion Fruit Rum, Raspberry, Mint, Lime, Soda
Punch-Bull – Hennessy VS, Tropical Red Bull, Orange Juice, Cranberry Juice, Grena
Royal Mule – Bulldog Gin, Lemon, Ginger Beer, Basil, Cucumber
The Rooftop Spritz – Belvedere Vodka, St-Germain, Aperol,Lemon, Chandon
Ultimate Margarita – Avion Silver, Agave, Lime, Grand Marnier Float
Mezcalita – Casamigos Mezcal Tequila, Orange, Lime, Agave, Tajin, Orange Bitters
Mango Detox – JuneShine Hard Kombucha, Absolut Elyx Vodka, Ginger Beer, Lemon, Basil
Strawberry Lemonade – Grey Goose Essence Strawberry and Lemongrass Vodka, Lemon, Sugar, Strawberries
Strawberry Smash – Grey Goose Essence Strawberry and Lemongrass Vodka, Lemon, Sugar, Strawberries
Salty Goose – Grey Goose Vodka, St-Germain, Lemon, Cucumbers, Sprite, Salt
We Understand that cocktails aren't for everybody, and our full menu boasts a wide variety of draft and bottled beers, red and white wine, spirits, frozen drinks, and champagne. So worry you not, if you're kicking it poolside, and want to nurse an IPA like a boss, you're in luck!
ABOUT THE POOL HOUSE
AN OUTDOOR OASIS WITH DRAMATIC CITY VIEWS
Boasting some of the best views in the Gaslamp Quarter, The Pool House at Pendry San Diego is a premier rooftop lounge, embodying the essence of the Southern California lifestyle. Light, contemporary, and open-air, the indoor/outdoor space is perched above the Gaslamp's famed 5th Avenue and plays host to relaxed daytime and evening events featuring a signature bar and cocktail experience for poolside guests.
The Pool House is open Sunday-Friday to the public 11am – 6pm.