Last Fling Before the Ring at The Pool House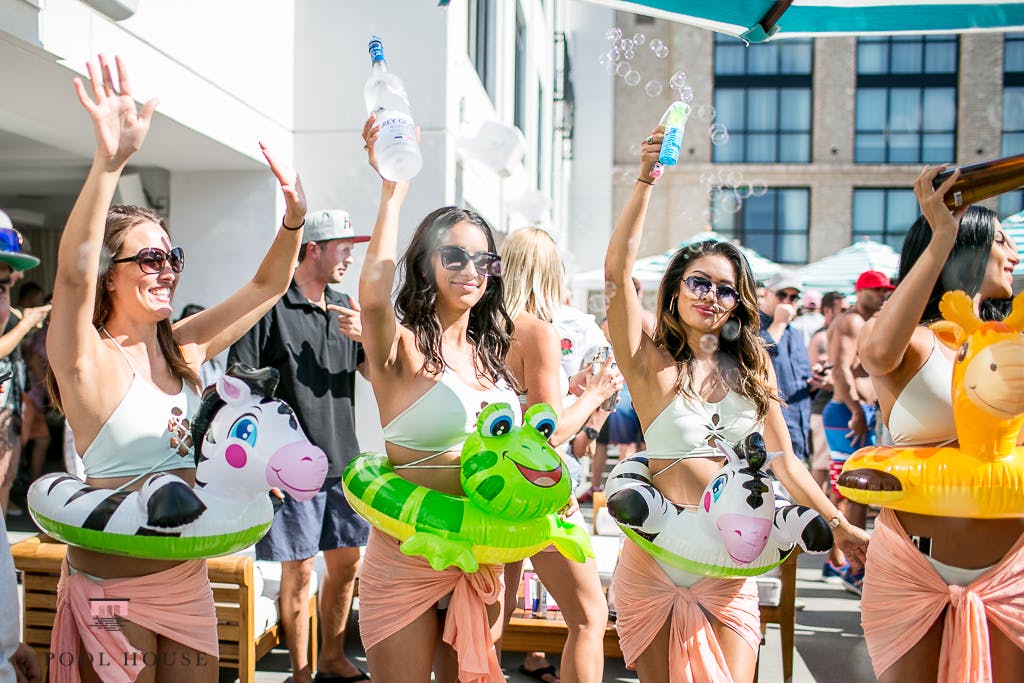 Did you know that we are the destination for bachelorette parties in San Diego? Think about it: you bring your crew, and we'll do the rest. We have the rooftop pool, the daybeds and cabanas, the drinks, the food, and the vibes. Just give us a call, bring the bride to be, and let us take care of the Last Fling Before the Ring for you!
Bachelorette parties are serious business, and if you've found your soulmate, then you're only going to get one of them. But let's be real here, the night is about you and your bridal party, and having one last fling before the ring! If you're thinking of a rooftop pool, then think no further, and let us handle the rest. This is especially important for the maid of honor who may be planning something special! There's so much planning involved for a wedding, and while these duties can sometimes make enjoying the party yourself difficult, that's what we're here for at The Pool House. If you book your last hurrah with us, we'll take care of you so you can make your last fling legendary.
PLANNING IS SIMPLE
We've made it easy for you to book a bachelorette party. Just fill out the form, or call (619-738-7030), and someone from our team will work with you to make sure you plan a night to remember. Just let us know what you need help setting up, the amount of people attending, the date of the party, and we'll coordinate with you to make sure the evening goes off without a hitch.
Whether you're looking finding entertainment, or want to keep it low key, you've got the rooftop pool, and an amazing view of San Diego from above that can't be rivaled, so gather up the girls, have some drinks, get your dance on, or just sit poolside and soak in the atmosphere.
WE HAVE THE BEST DRINKS
Our specialty cocktails have been imagined with total relaxation in mind, with restorative juices, and only the finest spirits mixed in. If you're kicking it poolside on a rooftop, you need to be treated like royalty. Let the week's stresses melt away, and lose yourself in the flavors that paint your day with liquid luxury.
Classic Mojito – Bacardi Superior Rum, Lime, Mint, Sugar
Don Sandia – Casamigos Blanco Tequila, Watermelon Juice, Lemon, Lime
Fresca Fizz – Ciroc Red Berry Vodka, Raspberries, Lemon, Mint, Chandon Sparkling Wine
Green Flash – Tanqueray Gin, Midori Melon, Lemon, Basil
Hot In Jalisco– Don Julio Blanco Tequila, Grapefruit, Pomegranate, Lime, Firewater Bitters
Pablo Chacon – Mi Campo Blanco Tequila, Cucumber, Jalapeño, Bitters, Lime
Passion Berry Mojito – Cruzan Passion Fruit Rum, Raspberry, Mint, Lime, Soda
Punch-Bull – Hennessy VS, Tropical Red Bull, Orange Juice, Cranberry Juice, Grena
Royal Mule – Bulldog Gin, Lemon, Ginger Beer, Basil, Cucumber
The Rooftop Spritz – Belvedere Vodka, St-Germain, Aperol,Lemon, Chandon
Ultimate Margarita – Avion Silver, Agave, Lime, Grand Marnier Float
Mezcalita – Casamigos Mezcal Tequila, Orange, Lime, Agave, Tajin, Orange Bitters
Mango Detox – JuneShine Hard Kombucha, Absolut Elyx Vodka, Ginger Beer, Lemon, Basil
Strawberry Lemonade – Grey Goose Essence Strawberry and Lemongrass Vodka, Lemon, Sugar, Strawberries
Strawberry Smash – Grey Goose Essence Strawberry and Lemongrass Vodka, Lemon, Sugar, Strawberries
Salty Goose – Grey Goose Vodka, St-Germain, Lemon, Cucumbers, Sprite, Salt
We Understand that cocktails aren't for everybody, and our full menu boasts a wide variety of draft and bottled beers, red and white wine, spirits, frozen drinks, and champagne. So worry you not, if you're kicking it poolside, and want to nurse an IPA like a boss, you're in luck!
About The Pool House
AN OUTDOOR OASIS WITH DRAMATIC CITY VIEWS
Boasting some of the best views in the Gaslamp Quarter, The Pool House at Pendry San Diego is a premier rooftop lounge, embodying the essence of the Southern California lifestyle. Light, contemporary, and open-air, the indoor/outdoor space is perched above the Gaslamp's famed 5th Avenue and plays host to relaxed daytime and evening events featuring a signature bar and cocktail experience for poolside guests.
The Pool House is open Sunday-Friday to the public 11am – 6pm.